Our Mission
To help dogs and their owners coexist safely and comfortably while promoting a clean and healthy lifestyle
Our story
Growing up, dogs were a huge part of my family, so when I first brought my St. Bernard Harley home, I wanted to give her the best life I possibly could.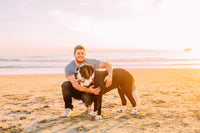 I took Harley everywhere, which meant she was always in my car and made frequent visits to friends and family member's houses. The problem was people were constantly complaining about her shedding. Dog hair was everywhere, and nobody wanted to ride in my car or hang out at my house, and Harley wasn't allowed at anyone else's house. I tried to fix the shedding problem with every product on the market – from sheets or seat covers in the car to fancy shampoos and grooming products – nothing worked! That's when I was inspired to come up with my own solution and create something that was completely different. My mom sewed the first prototype and once Harley started wearing it, people began asking where they could get one for their dog. That's when I realized there was a huge need for this product. It had so many benefits that I thought if I could make it available to dog owners everywhere, I could help improve the relationship between people and their pets. Our mission is to keep creating products that promote a happy and healthy lifestyle and strengthen the bond between people and their pets. Our mission is to support all animals. See how we Paw it Forward.
Eco-friendly, Lightweight Fabric
Finding the right fabric was one of the hardest parts of developing the final version of the Shed Defender.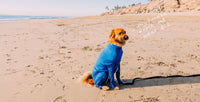 We needed something that was lightweight, breathable, stretchy, durable and comfortable all at the same time. After trying dozens and dozens of different materials, I eventually developed Shed-Tex, a proprietary and eco-friendly polyester, spandex athletic mesh fabric that allows the dog to stay cool and comfortable.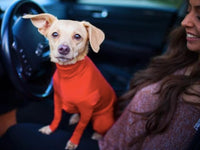 Sustainability
The best part about our fabric is that it's made from recycled plastic water bottles! At Shed Defender, we value sustainability because preserving the beaches, parks, mountains and trails that our dogs play in is important to us and our pups. Traditional polyester is an energy-hungry, non-sustainable synthetic fiber so that's why we started looking for something different.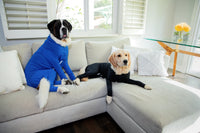 The Process
This process of converting PET into recycled polyester uses 33%-53% less energy than developing traditional polyester fabric. With the creation of the Shed-Tex fabric we are reducing our dependence on petroleum and using plastic bottles that would have otherwise ended up in a landfill which reduces soil contamination and air and water pollution.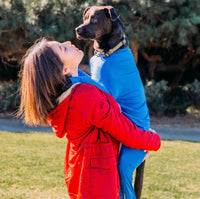 Recyclable
And an added benefit is that garments created from recycled polyester can be recycled again and again with no degradation of quality so don't forget to recycle your Shed-Tex Shed Defender so that it can avoid ending up in a landfill!
Sizing
Do you make one that will fit my dog?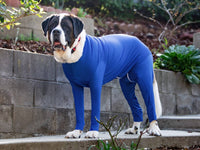 That's one of the most common questions we get when talking about the Shed Defender or showing it off at events and the answer is always YES! I spent countless hours at animal shelters and dog parks, trying the Shed Defender on dogs of all sizes and shapes. Eventually I created 9 sizes that fit dogs from 5 lbs up to dogs that weigh over 200 lbs!
Beyond the Shedding: Fostering a Happier and Healthier Lifestyle
I truly believe that the Shed Defender helped Harley and I spend more quality time together because I was able to bring her in the car, take her to friends and family member's houses and overall I spent less time worrying about the dog hair and more time having fun with her.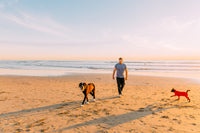 I knew I wanted other dog lovers to experience these benefits, but to my surprise, shedding was just the beginning! Once I started selling the product, people started sending us emails saying that the Shed Defender has reduced their dog's anxiety and has helped with a huge variety of medical issues. Instead of the annoying medical cone, people began using it for surgical recovery, hotspots, skin conditions and more. As the brand has grown, so have the use cases. We now have people using the Shed Defender as a way to keep ticks, burrs, stickers and fleas out of the fur. It offers UV protection for hairless dogs or dogs recovering from cancer or other conditions. People like using it to keep dogs clean and countless other reasons!